Warning Details
Below are the details for this warning.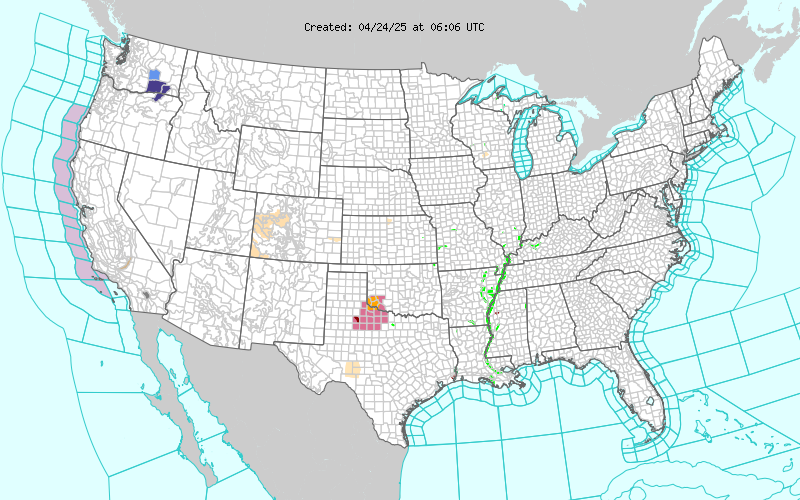 Warning Details
---
Location:

South Central Oregon Cascades county in Oregon

Until:

07:00PM (CDT)

Expired

Movement:

S @ 0mph

NWS:
---
...Wintry Weather Expected over the Cascades this afternoon through Friday... .An early season storm is expected to bring snow to the higher elevation of the Cascades this afternoon through Friday. Snow is expected above 4500 feet and will impact areas from the Willamette Pass south through the Crater Lake area. Light to moderate snow showers are possible over the passes across the Cascades but heaviest snow will be above the pass level. Little if any snow is expected at Sexton and Siskiyou Passes along Interstate 5 during this period. ...WINTER WEATHER ADVISORY REMAINS IN EFFECT UNTIL 5 PM PDT FRIDAY ABOVE 4500 FEET... * WHAT...Snow expected. Travel will be very difficult to impossible, including during the evening commute on Friday. Total snow accumulations of 8 to 12 inches are expected above 4500 feet. Snowfall amounts up to 15 inches are possible at higher elevations north of Diamond Lake. * WHERE...South Central Oregon Cascades from the Willamette Pass south to 10 miles north of Highway 140. This includes highway 62 near Crater Lake, highways 230 and 138 near Diamond Lake, highway 232 and highway 58 from Crescent Lake to near Willamette Pass. * WHEN...until 5 PM Friday. The heaviest snowfall rates will occur between tonight and late Friday morning. * ADDITIONAL DETAILS...Slick, snow covered roads are expected. Visibilities may be significantly reduced at times.