Warning Details
Below are the details for this warning.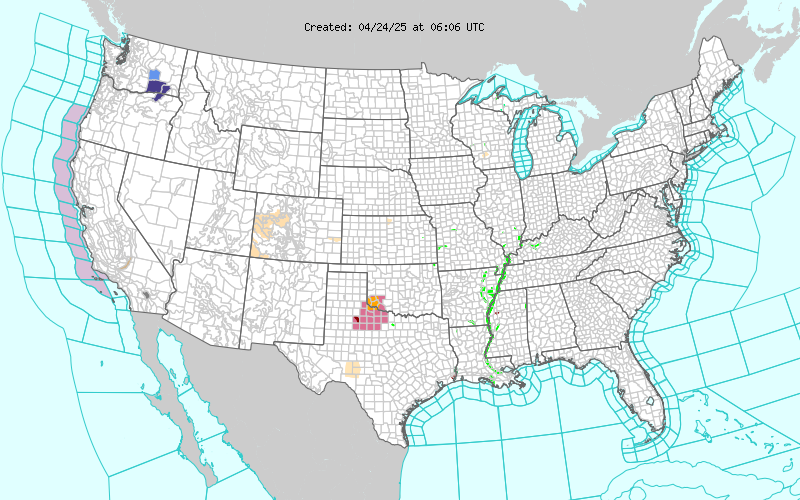 Warning Details
---
Location:

Rio Grande Valley of Eastern Hudspeth County; Salt Basin; Southern Hudspeth Highlands county in Texas

Until:

09:00PM (CDT)

Expired

Movement:

S @ 0mph

NWS:
---
...FOCUS FOR WINTER WEATHER IMPACTS SHIFTING TO TONIGHT AND THURSDAY IN FAR WEST TEXAS... .Temperatures have remained a few degrees above freezing across Far West Texas overnight. As a result, the expected precipitation has fallen as rain, with just a few flakes mixed in here and there. However, another push of colder air is expected overnight ahead of a secondary upper level disturbance, which is looking to come through the area a little stronger. While light rain will slowly diminish this afternoon, another round of showers is expected tonight and Thursday, this time falling as snow. The best chance for accumulating snow showers will be over parts of Hudspeth County again late Wednesday night into Thursday. However, this advisory may need to be expanded westward later today. ...WINTER WEATHER ADVISORY NOW IN EFFECT FROM 6 PM THIS EVENING TO 8 PM MST THURSDAY... * WHAT...Light Rain today is expected to slowly diminish this afternoon. Showers will return overnight in the form of snow, and continue through much of Thursday. Plan on slippery road conditions. Snow accumulations of up to two inches, with localized amounts up to 3 inches, are expected by Thursday afternoon. * WHERE...Eastern Hudspeth County in Texas including Cornudas, Dell City, Salt Flat, and Sierra Blanca. * WHEN...6 PM Wednesday to 8 PM Thursday. The heaviest snowfall rates will occur between 5 AM and 11 AM Thursday.